Comparing African fixed broadband prices
This is the third post in a series of three using data from the Google Policy by the Numbers International Broadband Pricing Study.
A first-of-its-kind research project (conducted by Communications Chambers) found price observations for nearly 1,500 global fixed broadband plans from 93 countries and nearly 2,200 mobile broadband plans from 106 countries. The goal of the project is to further lower the cost of Internet access for users.
We went through the raw data and filtered by African country to compare costs of fixed broadband plans available in 23 nations. Comparing plans among different countries, let alone different domestic operators proves extremely challenging. Plans vary by both duration of validity and data limitations. Please note the limitations of the data listed at the bottom of the post. Additionally, keep in mind most consumers utilize pre-paid mobile plans. Full data can be found on Google Fusion Tables. Costs are listed in US Dollars and are current as of July 2012.
Cheapest listed plan cost for each country (all speeds):
Reflects the cheapest plan included in the dataset by country, regardless of data or other limitations. In general, no more than 3 operators per country were included in the data, so others may offer a slightly cheaper plan than listed here. Many nations offer no more than 128kbps download speeds, and these plans are targeted for businesses.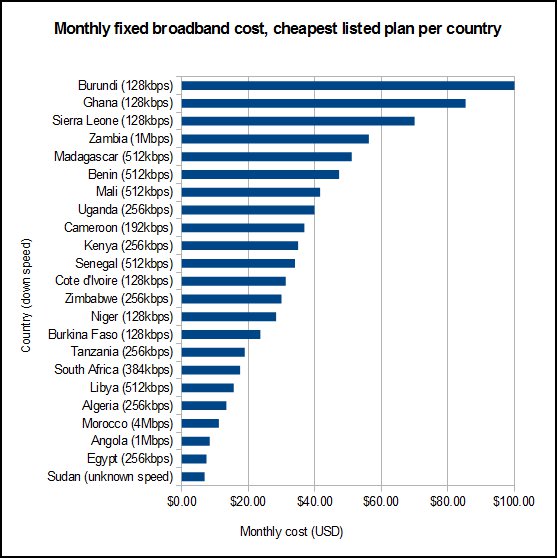 Sudan, $6.90 (unknown speed)
Egypt, $7.45 (256kbps)
Angola, $8.42 (1Mbps)
Morocco, $11.16 (4Mbps)
Algeria, $13.43 (256kbps)
Libya, $15.63 (512kbps)
South Africa, $17.55 (384kbps)
Tanzania, $18.96 (256kbps)
Burkina Faso, $23.64 (128kbps)
Niger, $28.37 (128kbps)
Zimbabwe, $30.00 (256kbps)
Cote d'Ivoire, $31.26 (128kbps)
Senegal, $34.05 (512kbps)
Kenya, $34.99 (256kbps)
Cameroon, $36.88 (192kbps)
Uganda, $39.92 (256kbps)
Mali, $41.61 (512kbps)
Benin, $47.29 (512kbps)
Madagascar, $51.09 (512kbps)
Zambia, $56.23 (1Mbps)
Sierra Leone, $70.00 (128kbps)
Ghana, $85.32 (128kbps)
Burundi, $100.00 (128kbps)
Calculated cost per Mbps for cheapest available fixed plan (by country):
To get an idea of how plans compare across countries, we calculated the cost per data for the cheapest plan in the dataset for each country. The comparison is far from perfect (we could also have compared the highest available bandwidth plans), but it gives a sense of where fixed broadband costs are the highest – generally West Africa (excluding Senegal) and Central Africa. Costs in Ghana seem high considering the relatively cheaper mobile plans. One thing is for sure: fixed broadband in Burundi and in Sierra Leone is extraordinarily expensive!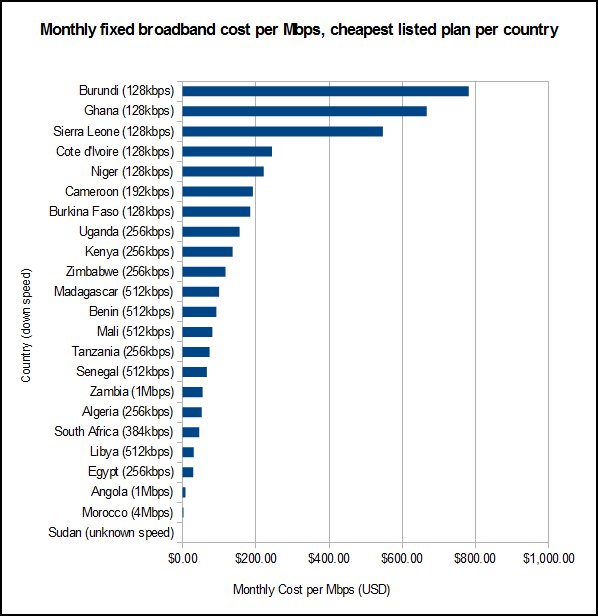 Cheapest possible plan (by operator):
North Africa and Angola have the lowest costs, hands down.
$6.90, Sudan (Sudanet 2GB usage cap)
$7.45, Egypt (LINKdotNET 256kbps)
$8.42, Angola (MoviNet 1Mbps 50MB usage cap)
$8.95, Angola (Nexus 1Mbps 300MB usage cap)
$10.76, Egypt (Etisalat 512kbps 4GB usage cap)
$11.16, Morocco (Menara 4Mbps)
1 Mbps (excluding North Africa + Angola):
Monthly rates for North African countries and Angola go for $15-$35. Elsewhere, high speeds are more expensive. Of course, these are advertised speeds – many are marketed as "up to 1Mbps". Note how Ringo offers speeds of up to 1Mbps for 1/10th the cost of MTN. Pricing in Senegal, Zambia, Tanaznia, Madagascar, and Kenya is very similar ($50-$70).
$42.52, South Africa (Axxess DSL)
$47.29, Cameroon (Ringo)
$47.29, Senegal (Sonatel)
$56.23, Zambia (Zamtel)
$63.21, Tanzania (TTCL)
$69.84, Madagascar (Blueline)
$70.01, Kenya (AccessKenya)
$110.00, Zimbabwe (TelOne)
$151.31, Benin (Kanakoo)
$152.07, Burkina Faso (Onatel)
$157.74, Cote d'Ivoire (Africa Online)
$255.34, Niger (Sonitel)
$304.75, Ghana (ClickMAX)
$491.77, Cameroon (MTN)
About the data source: Data has been gathered by visiting operator websites in July 2012. Not all countries made the list; only nations with greater than 5 million people were considered. Data for at least three fixed and three mobile operators was gathered. In countries with more than three operators, only the largest operators with available data were included. Fixed broadband covers consumer broadband-only offers. ADSL is noted where applicable. There are a number of practical constraints, including time, determining the leading operators in each country, and the ability of Google Translate to provide useful information. As the consultancy points out, "nothing should be read into the omission of a certain ISP or price plan from this database." Additional explanatory notes from the study can be found here.