Fibre capacity, submarine cables, and African Internet in 2022
The African Peering and Interconnection Forum (AfPIF), an annual conference held by the Internet Society, fosters cross-border interconnection opportunities. The event provides a forum where key players from infrastructure and service providers, IXPs, regulators, and policy makers can share their experiences and learn from experts in the field.
One presentation that stood out as we looked through the AfPIF 2012 Programme is from Liquid Telecom, a fibre operator in Southern Africa that is part of the Econet Group. Our favorite slides are summarized below:
Submarine Cable Map 2013
Color-coded by cable, chronologically from inner-to-outer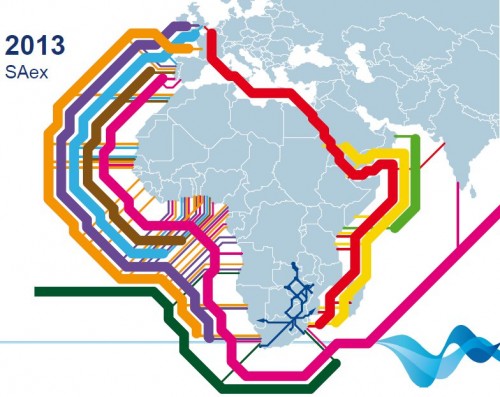 Fibre Capacity 2013
Amazing gains since 2009, in terms of number of cables and capacity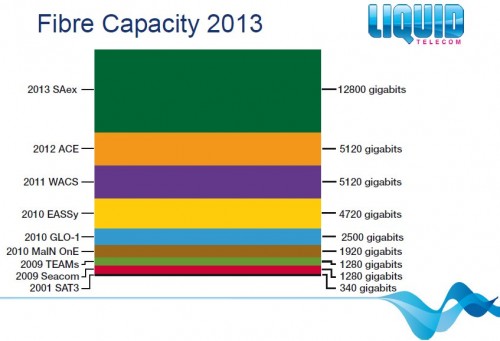 Cost Breakdown Satellite vs. Cable
International connectivity is 54% of satellite broadband cost, but only 13% of cable broadband cost
Conversely, the cost of last mile is 34% of satellite broadband cost, but only 61% of cable broadband cost
Affordability of broadband, 2007-2016
International connectivity costs will drastically drop
Last mile costs will decrease very slowly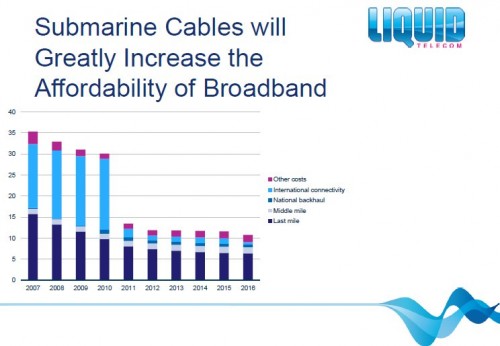 Monthly broadband prices for packages below 1Mbit/s
Prices have reduced slightly – but not much – since 2007
As of 2011, most are under USD 100
22% are in the USD 200-300 range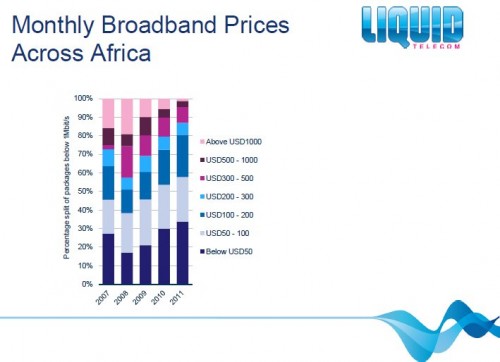 African Internet, 2012
Multiple submarine routes have led to greater competition and lower pricing
Some cross border connections
Nearly all countries have a local internet exchange point
Latency to Europe is 50% lower than in 2002, but within Africa, latency is nearly the same as direct satellite can provide
African Internet, 2022 (prediction)
Meshed terrestrial Internet with fewer connections to submarine cables
Questions: who will do the cross border peering, will the African backbone be controlled by African operators or large US-based carriers, will there be enough local African content to support an advanced land-based network
Source: "Bridging the African Internet," Liquid Telecom, August 2012.