Quick African trends from Akamai's 'The State of the Internet, Q1 2013′ Report
Akamai Technologies, Inc., a leading cloud platform, recently released its First Quarter, 2013 State of the Internet report. The report provides insight into key global statistics such as average and peak connection speed and mobile broadband speeds. Much of the report focuses attack traffic on the United States, but parts examine connectivity in larger African economies.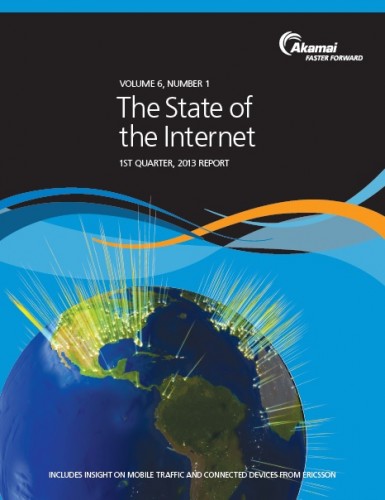 Notes:
Angola, Sudan, and Kenya saw the unique IP count grow more than 50% quarter-over-quarter (the reason isn't exactly clear)
Tunisia's average connection speed fell by 0.1% quarter-over-quarter
Year-over-year, Egypt saw a 19% decline in average connection speed (to 1.1 Mbps)
Libya had the slowest connection speed of surveyed nations once again, with 0.6 Mbps on average (19% YoY growth)
The peak connection speed in Ghana rose by 55% quarter-over-quarter (21.3 Mbps)
Sudan's peak connection speed fell by 8% to 6.1 Mbps (down 28% YoY)
Mozambique saw its peak connection speed double to 9.6 Mbps
The island of Réunion saw 108% quarterly growth (330% yearly) in broadband adoption (now at 27%)
Morocco broadband adoption grew by 716% (from a low base) to 6.6%
South Africa had a 2.1 Mbps average connection speed after increasing by 16% year-over-year
South Africa's peak connection speed was 7.6 Mbps
In South Africa, 1.5% of connections were above 10 Mbps (more than doubled year-over-year) – 8% were above 4 Mbps
Selected mobile providers in Egypt, Morocco, Nigeria, and South Africa had average mobile connection speeds around 1 Mbps
Note: Data is gathered from the Akamai Intelligent Platform, which doesn't necessarily represent actual speeds on the ground. But, the data is consistently a solid benchmark.