CTO Forum 2013 aims to turn rhetoric into broadband access
The Commonwealth Telecommunications Organisation (CTO) is an international organization with a core goal to develop and use ICTs within the Commonwealth and beyond. Within Africa, 16 nations are full members and 2 countries are involved through ICT sector memberships. The CTO's six annual international events bring together Heads of Government and Regulatory Authorities as well as senior decision makers from global private sector companies and civil society organizations.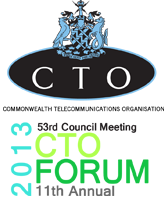 Collaboration among ICT stakeholders is becoming pivotal in Africa. CTO Forum 2013 served as another means of bringing together ministers, experts, and policymakers who have the ability to drive down internet access costs for African consumers. Hosted in Abuja, Nigeria under the theme "innovation through broadband," speakers provided regional updates into infrastructure and security challenges inhibiting broadband access. In addition, the World Wide Web Foundation announced the launch of the Alliance for Affordable Internet (A4AI) which will reduce the cost of internet access in Africa through policy reform. More than 30 members are part of the coalition.
Delegates at the 11th Annual CTO Forum promised to be vigilant of challenges facing broadband access. They resolved to implement forward-thinking policies and to emphasize ICT applications for women and youth. Eleven specific take-aways can be found in the Communiqué.
A keynote address by Prof. Tim Unwin, Secretary General of the CTO, touched on the moral importance of providing access to broadband:
expansion of ICTs over the last decade has made the world a more unequal place (enabling everyone to have broadband will change this)
need to develop new models through which broadband can be provided at an affordable price
carefully crafted multi-stakeholder partnerships can help deliver affordable broadband for all (including the poor, the disabled, and the marginalized)
providing broadband connectivity is only a beginning
Interesting points shared from #CTOFORUM2013 include:
Ministers from Nigeria, Kenya, Tanzania, Botswana, South Sudan shared views on ICT (broadband costs, ability of regulator to bring prices down, leapfrogging, fibre cable roll-out)
Challenge is finding revenue balance for government and operators
Not all operators want to exchange traffic locally (many in Nigeria still go through London)
There's a major need to turn rhetoric into broadband access
In Africa, mobile broadband prices are 36.6% of Gross National Income per capita
Rwanda and Angola have 4G but Kenya and Nigeria do not
Photos from the event can be found on the CTO Tumblr.
CTO Forum 2013 was organized by the Commonwealth Telecommunications Organisation in collaboration with the Federal Ministry of Communication Technology and Nigerian Communications Commission on behalf of the Federal Government of Nigeria.