How can open source technology be helpful for the city of Juba, South Sudan?
The "Media & Makers Juba 2012: Open Knowledge and Sustainable Media Forum" (held from December 11-13, 2012 in South Sudan) built upon the #OSJUBA conference held earlier this year in Berlin.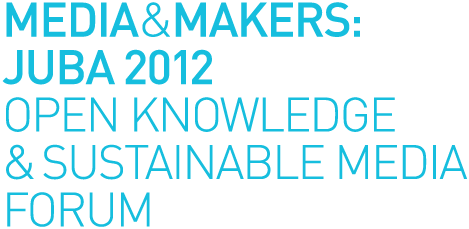 The #OSJUBA mission is far from simple:
By bringing together leading developers, artists and policy makers #OSJUBA will identify and present innovative Open Source projects, platforms and methodologies that are being used to define new forms of practice, particularly in regions challenged by post-conflict reconstruction, lack of infrastructure, and poverty barring access to basic needs."
The latest event critically analyzed those themes (plus those from TEXxJuba). According to the official event website, Juba 2012 is:
…an attempt to chart the common ground between media businesses and the open source movement in South Sudan and Sudan. The three-day conference will explore new solutions for the extraordinary challenges faced by the two countries, look at new ways to make use of existing resources, and examine new means of participatory media production, innovation, and collaboration across all sectors of society. It will be an opportunity for experts and media practitioners from South Sudan, (North) Sudan, and other parts of the world to discuss the future of the media sector and the role of the open systems/open data movement for the world's two youngest nations.
For one, we need to move from idea that a city is a resource producing entity and view it as a service provider. Open principals need to be understood before being applied. Moreover, the path to an open city starts with government and then with stakeholders (civil society). Open data is an integral part.
This particular event was organized into two streams: Sustainable Media and Open Knowledge. The 'Open Knowledge' stream (of special interest to us) covered themes such as:
how Open Source concepts relate to the future of South Sudan as an active contributor to regional development
the identification and collection of open data for open knowledge
opportunities to leverage Open ICT in South Sudan as vehicles to address the country's many challenges
A few poignant Tweets have emanated from the event:
#MMJUBA #OSJUBA Philip Thigo #pthigo Technology is not neutral, #Africa is not westernizing but innovating

— unescoFOSS (@unescofoss) December 11, 2012
South Sudan government believes data improves services, must be accessible to improve public good! @opengovpart @hudumake #MMJUBA

— SODNET (@Sodnet) December 12, 2012
Just presented #OGP and @icow as showcase potential for South Sudan. Credits to Su Kahumbu, innovator: See icow.co.ke! #MMjuba

— SODNET (@Sodnet) December 12, 2012
Its about capabilities; people learn technologie faster in open spaces, since they can look inside the code. #OSJUBA @auc_dpa

— SODNET (@Sodnet) December 11, 2012
Met a South Sudanese County Commissioner yest. Talked abt his #OpenGovt plans: promises to do the unprecedented: publish his budget #MMJUBA

— tolu ogunlesi (@toluogunlesi) December 13, 2012
If you are unable to capture the commanding heights of technology, political independence may be insignificant. #OSJUBA

— SODNET (@Sodnet) December 11, 2012
Follow the Media & Makers Tumblr or Facebook event page for more information.
The event is organized by Media in Cooperation and Transition (MICT) and agency for open culture and critical transformation (r0g_media) with funding from Federal Foreign Office of Germany and UNESCO. Additional support came from UNICEF, ministry of Information and Broadcasting, and Association for Media Development in South Sudan.
P.S. Media & Makers: Khartoum 2013 will take place next year in the Sudanese capital!