If an African ICT magazine launches, does anyone hear it?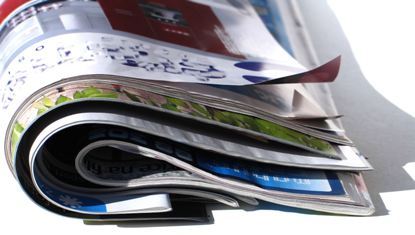 Update: Yes, they hear it! (See comments)
One would imagine that an ICT magazine aimed at closing the 'information gap' would be published both in print and online. However, Africa Telecom & IT Business, a new London-based and Lagos-launched publication covering ICT developments and issues, seems to be absent from the digital realm. An October 2009 issue is supposedly on sale at newsstands in key ICT hotspots, but news of the launch was published on only three websites (1) (2) (3). The fact that the magazine received online publicity is astounding considering there is not a single mention of Africa Telecom & IT Business on the Internet (unless links exist from popular African destinations). There is not a hint of the new magazine on Google, Yahoo, Bing, or even Twitter.
It would make slightly more sense to exist solely in print form if this magazine were purely an industry publication. However, the target audience is explicitly listed as "stakeholders in sector, regulators, consumers, operators, vendors, academics, professionals, financial analysts, bankers, governments and the general public." Additionally, online news costs less to produce than print media – many newspapers have even dropped print editions all together. Don't forget that a website can also enhance the reach of a print publication. Lastly, the editor of the magazine, Clifford Agugoesi, remains fairly elusive. He has a brief LinkedIn profile and was quoted in the handful of news stories, but provided no link to a website forAfrica Telecom & IT Business.
In all fairness, the magazine will probably prove very useful for Africans and international investor alikes. After all, the impressive goals and potential to further improve Africa's ICT situation cannot be ignored, website or not. In this day and age, however, it really pays to be indexed by Google.