Africa Android Challenge 2013 sees massive increase in participation
Africa Android Challenge is an annual collaboration between IT communities (usually Java User Groups and Google Developer Groups) across many African countries. All apps must utilize Android Apps and/or integrate Google Apps API.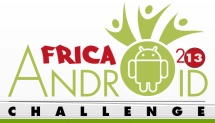 The six-month long Africa Android Challenge recently concluded after multiple rounds of judging. Submissions were made between February 1th and April 25th. Two dozen semi-finalists (roughly one per country) were announced a week later. Then, remaining teams had a few weeks to improve their applications. Finally, two winners (along with the top 10) were announced in June 2013.
This year's competition saw a massive increase in participation. More than 150 teams submitted apps compared with around 60 last year. Last year, apps were submitted by teams in 15 countries. This year that number grew to 21. Especially notable were the increases in submissions from Kenya, Cameroon, and Ivory Coast.
We're always interested to see how developers in different African countries compare to one another. For instance, how does the skill level of an app developer in Congo or Mali stack up against a competitor in South Africa or Kenya? Based on the themes and scope of first round winners, the skill levels once again look surprisingly similar. However, nations with more submissions had a better shot at making the list of top apps. No country with only one or two submissions finished at the top. Interestingly, none of Tunisia's twelve submissions and none of Ivory Coast's twenty-one apps made the top 10 list.
Winners:
Anandor by Tidane Sy (Dakar, Senegal): (trans.) "A free application management software (ERP) aimed primarily at SMEs and includes sales, customer relationship management (CRM), business management, accounting, production and management human resources."
Drivanizer by Abd El Rahman & Abdel Aziz (Cairo, Egypt): "A very simple and easy to use notes taker: let it be text or photo, or even extract text from photo (OCR). And many other interesting features. You can also listen to those notes (audio notes) and share them."
Finalists by country (# of total submissions, asterisk denotes top 10):
Nigeria* (14): personal finance
Kenya* (27): organization, rideshare (more than twice as many submissions as last year)
Tunisia (12): travel guide
Egypt* (6): note taking, game
Senegal* (8): business management, ticketing
Ghana* (8): wisdom, football news
South Africa (3): accident notification
Togo (3): slang dictionary
Benin* (4): shopping list
Cameroon* (14): reminder (7x as many submissions as last year)
DR Congo (5): tourist guide
Uganda (8): public transport costs
Ivory Coast (21): product reviews, fitness
Morocco* (3): real-time news
Ethiopia (4): tourism
Algeria (5): television
Mauritania (3): psychological testing
Congo (2): drug research
Malawi (1): minibus/matutu information
Mali (1): n/a
Botswana (1): n/a
See all 153 submissions along with the winners and top 10!
Remember, the best app isn't necessarily the one with the most bells and whistles. The core theme counts just as much as how well the app utilizes all of the Android's features. The best apps consist of an original idea that is not only relevant, but is easy to use. An app that solves a real problem is highly-esteemed.
P.S. For a firsthand account of what it is like to be an AAC semi-finalist, read a post by Team Awesome of Kumasi, Ghana, creators of Vuvuzela app.