Less than 6% of African mobile network traffic is devoted to video, 1% of subscribers account for 41% of monthly data usage
Published twice annually, Sandvine's Global Internet Phenomena Report shines a light on fixed, mobile and converged data networks around the world, identifying the facts, fads and future trends that will drive the evolution of network traffic and shape the future of the Internet as we know it.
Three years ago, we commented on a 2009 Sandvine report that found on a per-subscriber basis, Africans consumed the second most YouTube videos only to subscribers in North America. Impressive, for sure, but datapoints seemed limited, mobile networks were not measured, and no information was given whether the videos completely loaded or merely were initiated. Since then, the datapoints have multiplied and Sandvine now has measurements from over 20 African mobile networks in roughly as many countries.
The latest Global Internet Phenomena report, using data collected in September 2013, finds that video still occupies an extremely small portion of African-consumed bandwidth. That is, less than 6% of African mobile network traffic is devoted to video. Understandably so – mobile broadband is still limited in geographic coverage and when available, costs are out of reach for all but the upper class. However, the share of video data is expected to grow faster than in any other region…ever.
In more detail, the Sandvine report estimates the extent of African data consumption:
The prevalence of feature phones (and expensive data plans) greatly limits monthly data consumption: Mean African monthly data consumption is 21MB with a median of 1.5MB (compared with a 1GB mean in the Asia-Pacific region)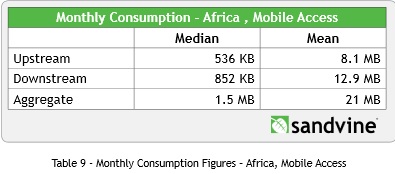 Real-time entertainment (ie. YouTube), the most dominant type of data-intensive activity in nearly every other region, is the 5th most dominant data activity in Africa (web browsing is #1)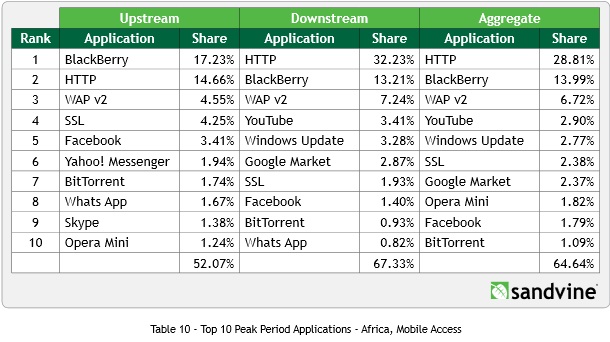 In terms of applications, HTTP leads at 29% and is followed by BlackBerry (14%), WAP v2 (7%), YouTube (3%), and Windows Update (3%)
Compared with North American peak period applications, MPEG, Pandora Radio, Netflix, Instagram, and iTunes are absent on the African Top 10 chart
Africa is also the only region where Opera Mini is among the top 25 applications, suggesting an emphasis on data efficiency
And perhaps the most intriguing point relates to how super-users are skewing the traffic distribution:
In Africa, the 1% of subscribers who make the heaviest use of the network's upstream resources account for 38.0% of upstream, 45.5% of downstream, and 41.1% of aggregate bytes each month. This concentration is among the highest observed, which we believe is due to the disparity in usage between those subscribers with higher consuming smartphones or aircards, and those who are using traditional feature phones.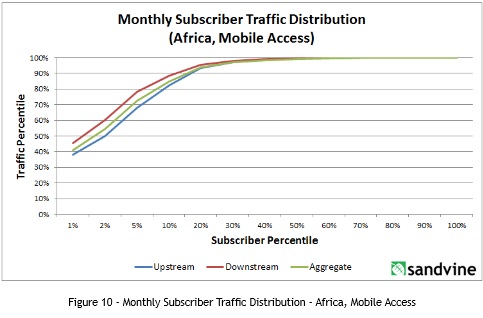 The trends found in the Sandvine report are nothing new. Reliable bandwidth (and electricity) are limited in much of Africa and will be limited for years to come. Especially in rural areas. Still, the exact numbers – especially the lack of streaming services and the uneven distribution by subscriber percentile – are captivating. At the same time, most data consumers are aware of video services and want to access them. As telecoms industry expert Russell Southwood puts it, "Once the bandwidth is there, demand for video on-demand and other online video services will shoot up." Network operators need to be more proactive in upgrading infrastructure, among other things, before the potential of online African video can be realized.