Busy month for Google in Africa
From March 10th to March 21st there were no fewer than five events in SSA. And the action wasn't limited to one region; developers and entrepreneurs from Uganda, Nigeria, and Ghana all took part in exploring the Google platform. A calendar of events from Google visualizes the action (missing is g|Nigeria in advance of G+Hackathon – Lagos):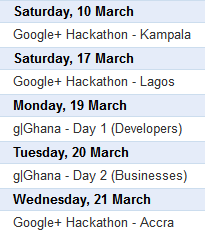 Google+ Hackathon: Follow the results, learn about the apps, and check out images from the events under the hashtag #hackgplus on Google+. LifeSavers, the winning application at the Nigeria Google+ Hackathon now has its own site. The Hackathons are the third, fourth, and fifth in Africa, after similar events were held in South Africa and Kenya earlier this year.
G|Ghana: The event consisted of two days: Day 1 targeted developers and webmasters, Day 2 eyed business, marketing, and entrepreneurship. Techy Thoughts Under the African Sun blog. A selection of comments, images, and links can also be found under the Google+ hashtag #gghana.
G|Nigeria: The third such event for Lagos attracted over 2,000 entrepreneurs and developers. Notable was the launch of Gmail Chat SMS – a new feature that allow users to use Gmail Chat to communicate between all mobile phones and platforms, even if they are offline or have an SMS or voice-only phone.