Updated: African leaders on Facebook (December 2010)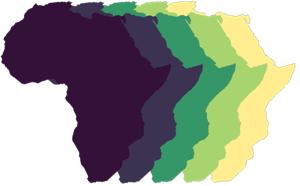 This post is an update of July 2010's list of African leaders with a Facebook presence. The numbers and a couple of links have been adjusted. Additionally, a column showing the percentage increase in fans/followers is now available. The % provides a loose idea of how popular Facebook has become within a given nation.

Only a few months ago, the Internet was buzzing with news of Nigerian President Goodluck Jonathan's social media successes. How has African Facebook momentum changed in the past 5 months? Have other leaders adopted social media and to what extent have citizens turned to theses pages for information and support?
Not surprisingly, a solid number, most notably Nigeria, Ivory Coast, Tanzania, Kenya, Chad, and Ghana have seen extraordinary Facebook growth (assuming the trends regarding leader page fan numbers reflects a general trend of Facebook adoption within the leader's nation). Most notably:
Nigeria's Googluck Jonathan gained 250,000 fans and is by far the most popular African leader on Facebook before adjusting for population.
Cote d'Ivoire's Laurent Gbagbo saw an impressive 465% gain, going from 2,700 to 15,000 over the period.
Moreover, little has changed in terms of which nations' leaders have active (and official) Facebook pages. Like before, many of the pages, often followed by thousands of citizens, are not actually maintained by the real leader or his staff. Wall posts often consist of quotes by the leader that have been published in other media sources. There is nothing inherently wrong with such fair attribution, but the types of responses from Facebook fans who appear to direct their feedback at the leader are concerning. Also:
Zimbabwe's PM attracted followers at a much lesser rate (16%) than leaders with a similar base in July.
Only 7 nations have seen no change or a decrease in fan base. 2 of these were the result of removed pages.
Mauritania and Somalia still have no official group for their respective leaders, indicating very low Facebook penetration.
The unofficial page for Equatorial Guinea's Teodoro Obiang Nguema Mbasogo was deleted, reason unknown.
Per capita, and assuming that all fans of leaders are located in the leader's country, Seychelles has the most people (about 1 in every 20), followed by Tunisia (1 in every 50). Using this same assumption, 1 in every 20 Americans likes President Barack Obama on Facebook.
Nations at the bottom of the fans-per-capita estimate include Somalia, Mauritania, Sudan, Zambia, Malawi, Ethiopia, Niger, Burundi, and Swaziland.
The list as of December 2010:
The above table lists all top African heads of state (usually President) and provides a link to the most popular Facebook page, group, or profile for a given leader. The final column shows how many users are interested in the particular leader. Loose definitions of the page-types:
Official page: A page run by the actual leader.
Public profile: A presidential account with a public wall and information about the leader.
Private profile: An seemingly real account without a public wall or information about the leader.
Unofficial page: A user-created page that serves as the leader.
Group: A user-created group dedicated to a leader.
Community page: A placeholder courtesy of Wikipedia for cases when no user-generated page exists.
A visualization of the data can be found on thanks to Rhiza Labs Community Insight.