Using Klout to estimate the influence of African online media
The hype surrounding Klout as a tool for tracking web influence has cooled, but the the tool is still useful in examining online social engagement. For a given topic, say, an African country, Klout provides a list of key influencers. Most are online news outlets, but organizations, presidents, and thought-leaders also appear. By looking at these Klout scores and bios, we can find general trends about how active online media is within a country. The general level of social media engagement within a country can also be estimated.
By Klout's definition, "influence" is:
…the ability to drive action, such as sharing a picture that triggers comments and likes, or tweeting about a great restaurant and causing your followers to go try it for themselves. Social actions are a signal that friends and peers in your social networks have been influenced by your content."
Therefore, an influencer on the topic of Angola who also has a high Klout score is more likely to generate a reaction from his or her audience than a fellow influencer with a lower score. Of course, a Klout score does not necessarily apply directly to the specific topic in question. Still, the number gives an idea of how established social media is in a country. The higher the Klout score of top influencers for an African country's topic, the more advanced social media users are.
Not all African country topics return results for influencers. Only 34 African nations exceed Klout's threshold to generate a list of influencers. The 20 or so that do not have smaller social media footprints. Topics like Burundi or Guinea-Bissau just don't produce enough online volume to generate accurate data.
In general, countries with 1) more online media and 2) more social media users have the most influential social accounts on the subject of the respective nation.  The strength of a nation's online media can also be extracted from the Klout scores. Kenya is a good example of this trend.
Also:
Topics with a tighter range of influencer scores tend to have more established online media presences.
Also, in many cases (ie. Mali and Sierra Leone), influencers for a country are international organizations or international journalists.
African Presidents unsurprisingly tend to have very high Klout scores.
Tech entities rarely show up as a top infuencer about a country (BarCamp Cameroon, iLab Liberia, and Ushahidi are exceptions).
The list, with brief comments and range of Klout scores for influencers of the topic is below. Click on an image to visit the Klout page for that nation's topic. Keep in mind the topics below only scratch the surface regarding online engagement within an African nation. And, low influence doesn't always mean low absolute engagement – it can also mean those sharing the content are less influential as well.
Algeria: a variety of users and media (40-60)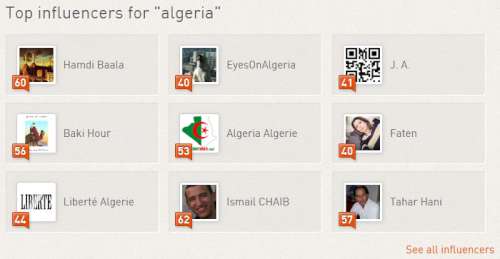 Angola: organizations and others. very wide range of influence (27-62)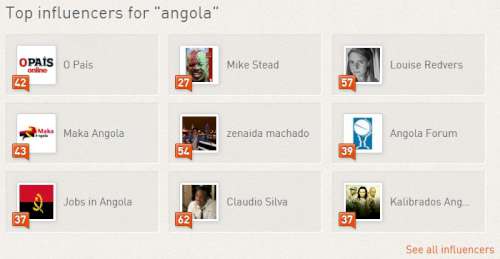 Benin: mostly individuals. wide range of influence (29-57)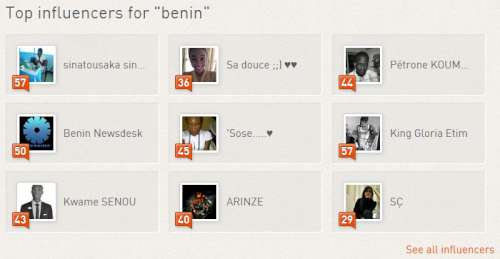 Botswana: a mix of types including tourism (43-66)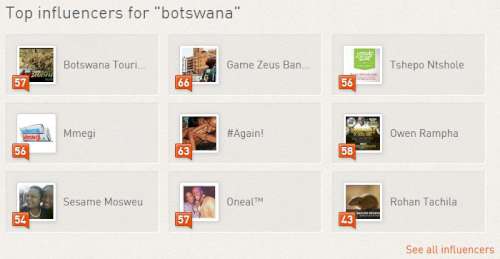 Burkina Faso: heavy on news, a few individuals. relatively low influence (25-45)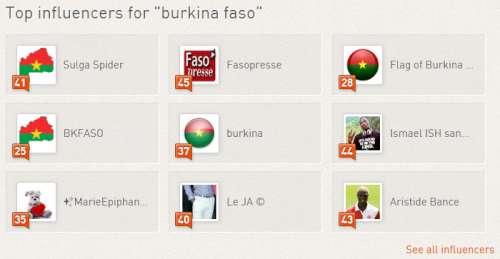 Cameroon: heavy on media and groups (including BarCamp Cameroon!). tight range of influence (42-60)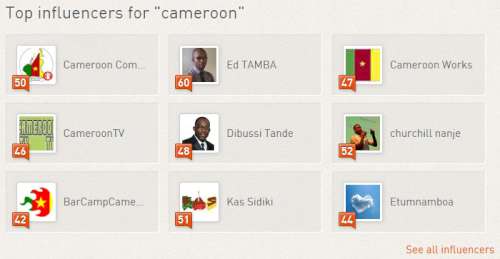 Cape Verde: media and entertainment (31-55)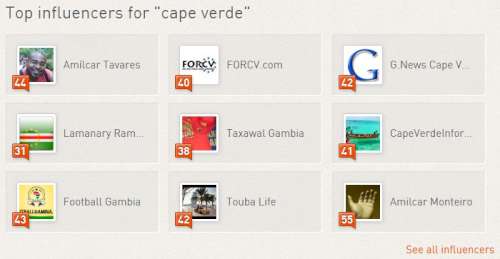 Congo: organizations working in DRC. tight range of influence (48-61)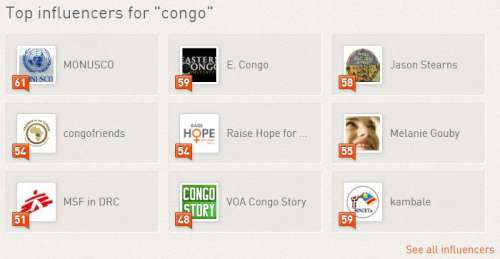 Egypt: very influential individuals (63-80)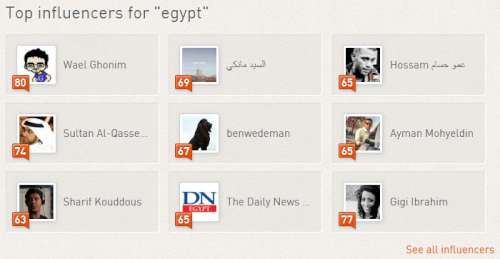 Ethiopia: heavy on news (34-57)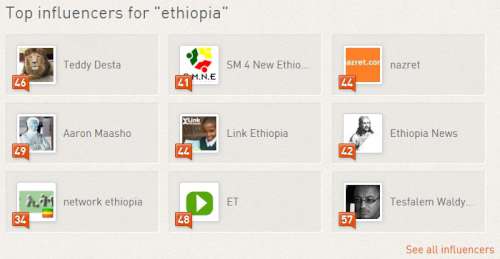 Ghana: media plus influential individuals. relatively high influence (53-78)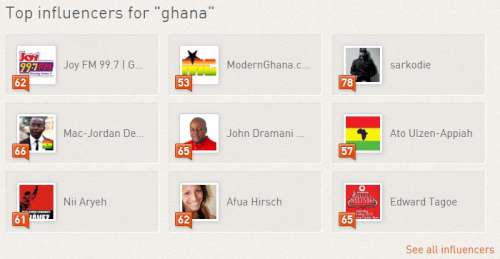 Kenya: very heavy on media, with a couple of thought leaders, Ushahidi. very influential (69-85)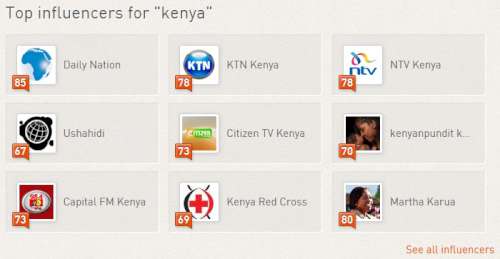 Liberia: a variety of accounts including iLab Liberia. lower influence scores (30-52)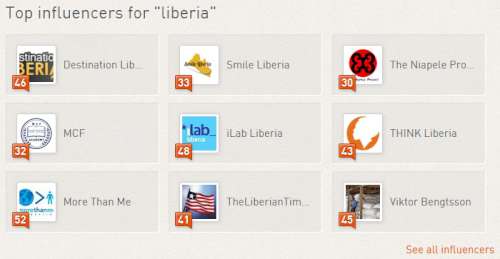 Libya: media, movements, and individuals. wide range of influence (42-74)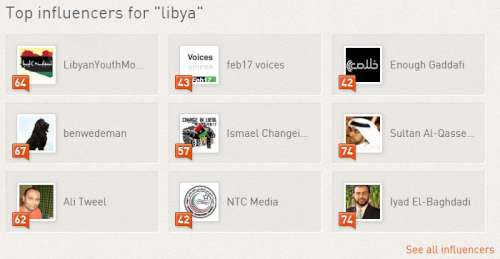 Madagascar: individuals. narrow range of influence (47-61)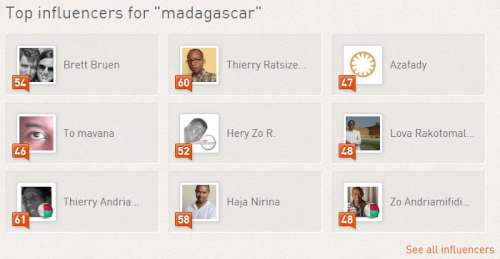 Malawi: media and a few individuals. wide range of influence (30-61)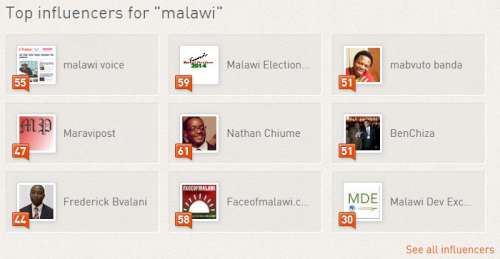 Mali: mostly journalists. very tight range of influence (54-62)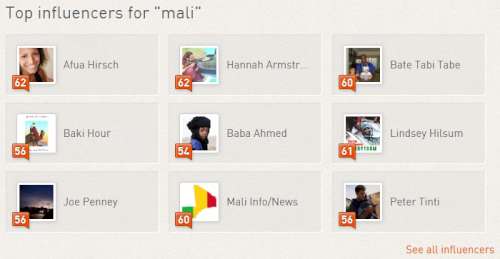 Mauritius: individuals, but also Orange (28-55)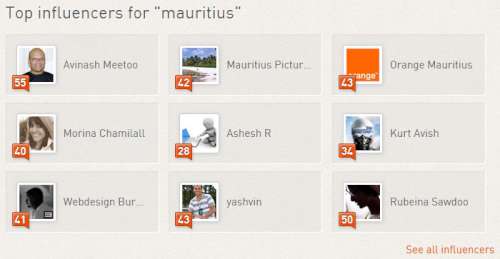 Morocco: a couple of groups and then individuals (33-60)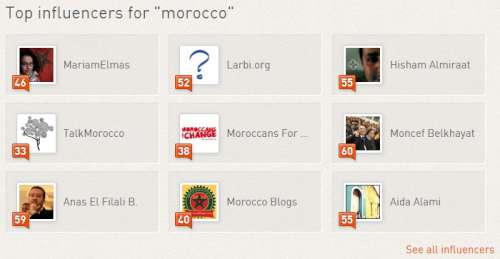 Mozambique: mostly organizations. wide range of influence (30-62)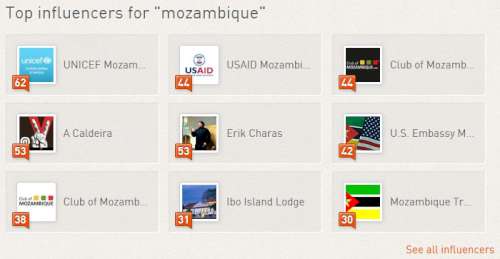 Namibia: tourism and media (28-51)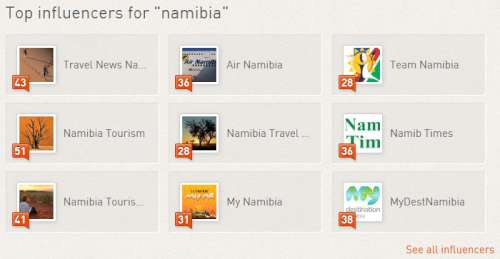 Nigeria: media, Goodluck Jonathan. relatively high level of influence (49-83)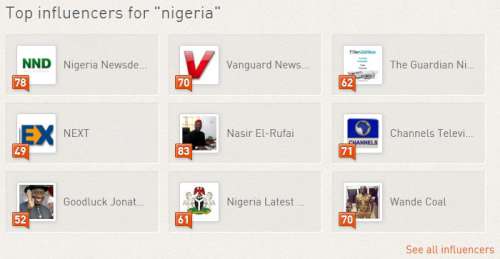 Rwanda: media, government, Paul Kagame. huge raneg of influence (38-83)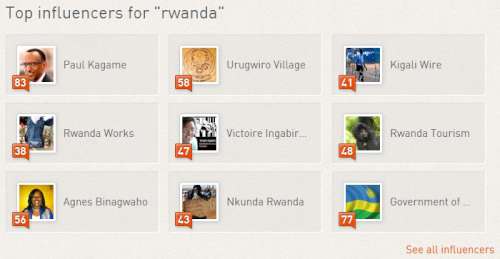 Senegal: influential individuals (43-61)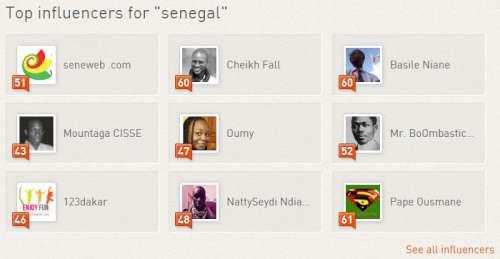 Sierra Leone: media, organizations, journalists. wide range of influence (28-65)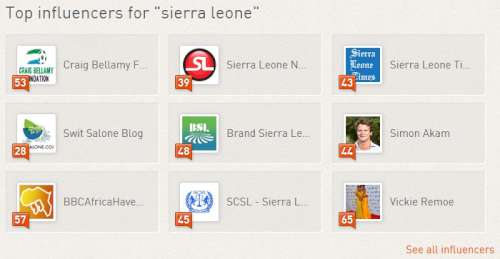 Somalia: media and organizations including the fake PM account (44-62)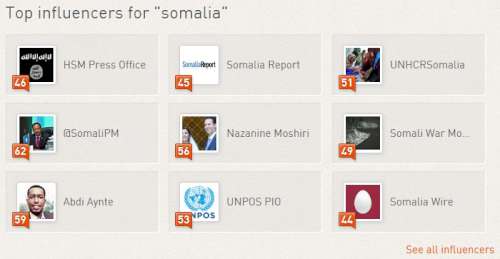 South Africa: influential media and Jacob Zuma (68-85)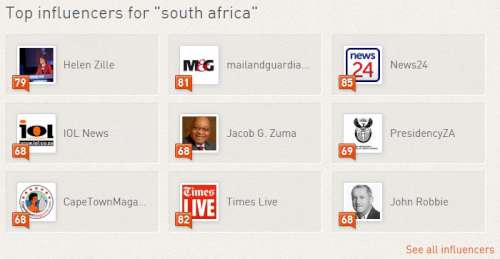 Sudan: organizations and media (38-74)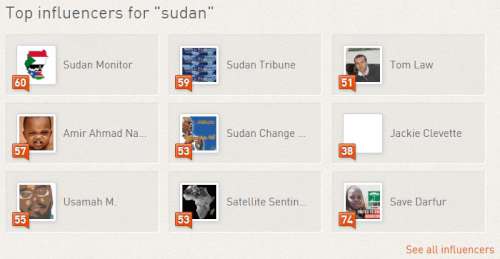 Tanzania: a mix of  accounts (46-82)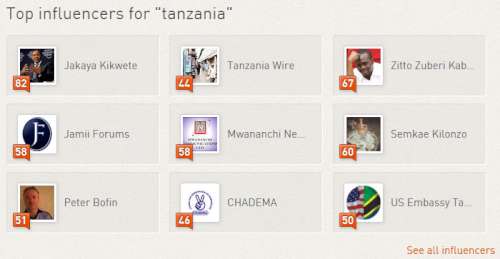 Togo: mostly individuals. relatively low influence (29-46)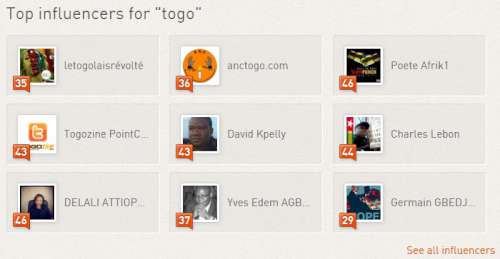 Tunisia: individuals and media. high level of influence (51-66)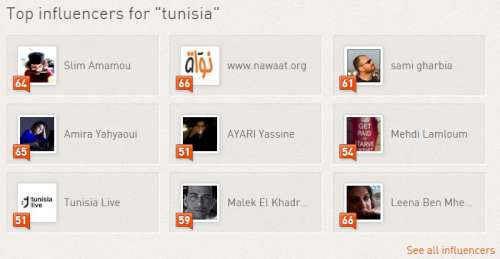 Uganda: media and organizations. large range of influence (45-81)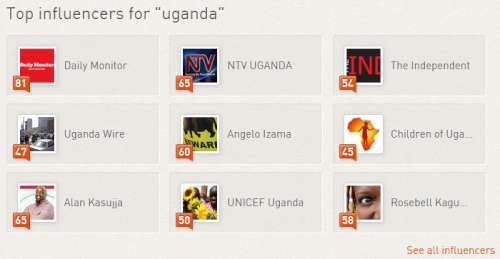 Zambia: a mix of accounts (30-60)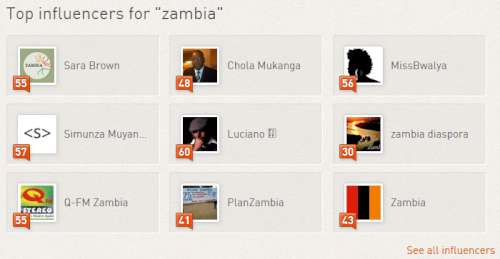 Zimbabwe: media and individuals (45-65)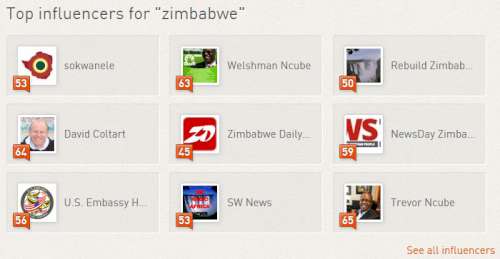 Africa: international media plus a few others (including Ushahidi/iHub's Erik Hersman) (52-89)